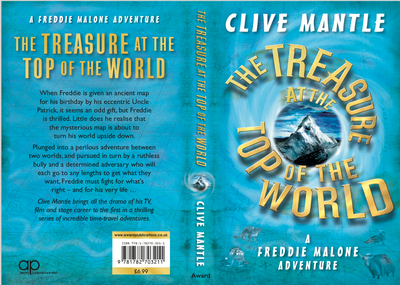 THE TREASURE AT THE TOP OF THE WORLD
In his first award winning adventure, Freddie Malone receives an intriguing and unusual thirteenth birthday present from his Uncle Patrick. The ancient world map goes straight up on his wall, but Freddie fast discovers that the map is much more than just a decorative historic artefact.
With his best friend Connor holding the fort as best he can in the present day, Freddie is plunged into an action packed mountainous adventure, righting the wrongs inflicted on a peaceful Kingdom and it's people, all the while pursued by ruthless adversaries who will go to any lengths to get what they want. On his journey he rescues the weak and endangered, restores lost artefacts and uncovers clues to a Century old mystery, but will their discovery be enough to provide a much sought after answer to a burning question?
The Treasure at the Top of the World is an Adventure, A Love Story and a Mystery - with Villains, Yaks and Yetis.
Freddie Malone is placed in actual Historic situations and his tale is woven around real people and events.
Clive said, "Everest has been my passion since childhood, when my Father enthused me with its many tales. Years later, I realised a lifetime's ambition and set foot on the mountain myself, and the magnificence of the experience is with me every day. I have woven a tale of adventure in the past and present against the wondrous backdrop of Nepal and its people.
I am thrilled that the story I wrote for my own son to pass on the flame has now found a wider audience, who will hopefully have their imaginations stimulated as mine was as a young boy."